Stories I Stole From Lord Byron's Bastard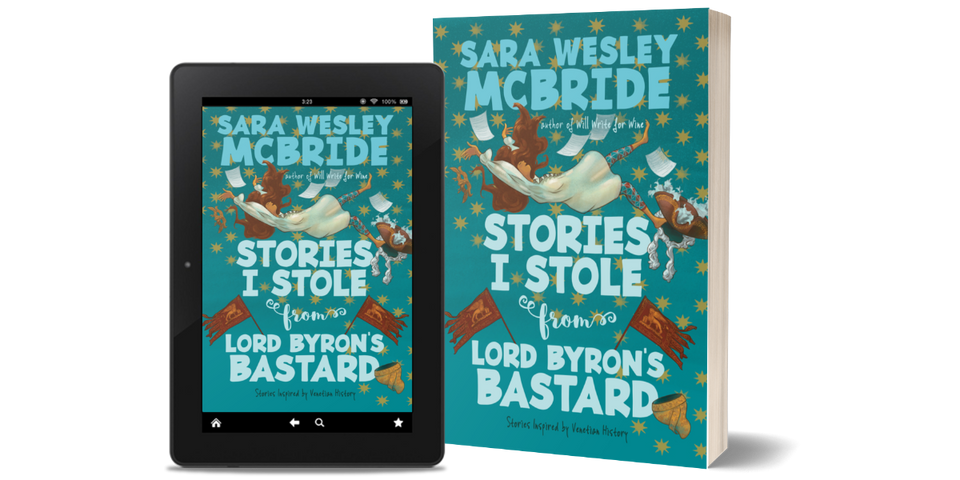 Stories I Stole From Lord Byron's Bastard
A collection of short stories by Sara Wesley McBride
Avaliable in ebook, print and large print
Get ready for a fun evening of stories inspired by Venetian history.
Thrill to the adventures of:
money-laundering plague nuns,
a pregnant Renaissance man,
a demonic Doge and the infamous Devil's Bridge,
and other tales of ghosts, art, and love.
Following in the footsteps of Lord Byron, and just as obsessed with Venetian history, my character Alexis Lynn wrote these stories in the novel, Will Write for Wine.
I proudly share these standalone stories with you over the objection of Alexis' paramour Manu, a modern-day Casanova and illegitimate descendent of Lord Byron himself.
So, pour yourself a glass of your favorite vino, let your dog or cat curl up at your feet (or let your cat do whatever it wants), and settle into these mostly… partly… somewhat true tales of Venice
In vino est fictio.
"If you're wondering about the story that made Manu so angry he banished me from Venice, it's in here."     — Alexis Lynn
Buy Amazon Kindle
Buy Amazon Paperback